No doubt you've heard the term timeless used in many different forms and often paired with the word classic. There's a good chance you automatically associate these styles to mean expensive or posh, that you think of mansions or the foyer of a 5-star hotel, when in reality it's quite simple to replicate and can be implemented on a budget. Just like all things creative in life, different trends and styes of interior design go in and out of fashion.
The quirkier or more abstract these trends, the more likely they are to be replaced with something new in a year or two. This is great for those that love to redecorate regularly and enjoy keeping up with what is current.
But if you're going for a low maintenance but stylish design, might we suggest incorporating some of these trends that will stand the test of time.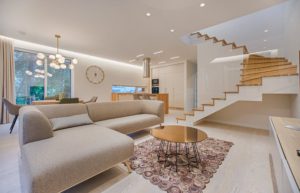 White
Think white. Yes, we know this can be more difficult with those of you with fur babies or little sticky fingers running round the house, but whether its walls, cabinets, or sofas, the color white is a proven winner when thinking timeless. The easiest way to incorporate this into your home is to paint your walls. It's fairly easy to fix any messes and isn't likely to cost much to maintain. When hitting up the hardware shop for your paint, don't let the endless number of shades overwhelm you, white is white at the end of the day. Another benefit of opting for white walls is the power it can have to make a room seem bigger than it is. The color is also perfect to reflect any natural light and brighten up your space making it feel fresh and clean.
Wood
Depending on the type of building your home is, there are plenty of ways to incorporate some wood into the structure. If you have the space, a timber ceiling could be ideal to give your home a rustic but classic vibe. Alternatively, wooden floorboards have been in style for as long as homes have been. They're a great option for keeping clean and can easily be updated and spruced with a new rug every once in a while. Real wood over the laminate options will often set you back a little further, but if you can afford that, you'll find that the finished look will last much longer. Another way to bring wood into your home design is to consider a wooden deck or balcony. Potentially pricey to have installed but another low maintenance choice. Your biggest concern with this one will be which deck sealer to use or whether the best decking oil for merbau is in fact merbau decking stain.
Plants
If you've ever been in a room that ordinarily has an abundance of plans after they've been removed, you'll understand how much of a difference they can make. The options to choose from are limited and it's very easy to personalise them through pots and plant holders. This addition to your home also has health benefits, it's well documented the ability of plants to freshen air and increase oxygen levels. Free standing pot plants are a classic and understated way to fill dead space and there are many with super quirky growth habits to liven things up. Plants are also ideal for bringing a bit of extra color to the room, particularly if you have gone for neutral tones or whites for your walls. The main thing to keep in mind with these beauties is not to get high maintenance ones unless you're able and willing to look after them. Nothing brings a room down quite like a dying plant.
Vintage Details
There's a reason we're still using antiques even though they're old and often expensive and that is because they are also timeless. Subtle incorporation of traditionally older styles throughout your home will avoid following a particular uniform or trend whilst also bringing some elegance and character to the space. Pieces that are also practical such as a bureau desk or display cabinet will ensure that it's not taking up too much room or causing the room to feel cluttered by its presence. You can also achieve this vintage detail by hanging large pieces of art or a traditionally framed mirror. If done properly, the addition of a timeless piece to your décor also has the potential to imply wealth by means of inheritance.
Office/Study
This leads on from the timelessness that is the vintage – having an in-house office or study seemed to have gone out of fashion, however the recent global pandemic has certainly seen them become practical once again. The number of office chairs Australia has seen sold these past two years is at an all-time high. The installation of a study is a timeless and elegant trend on its own. Large, wooden bookshelves filled with books is a look that will never go out of style. This simplistic but elegant display of knowledge is a perfect addition to any study, and it wouldn't be complete without a sturdy desk and home office chairs – bonus points if it swivels.
Open Floor Plan
Timeless looks are largely supported by the illusion of space and their inherent simplicity, an open plan living space will always help this along. This structural design makes simple updates an absolute breeze for when you feel like they need a freshen up. Having a free standing island that links a kitchen and living space will never not be trendy, not to mention infinitely practical. For those with a bigger space that allows a separate dining area, a heavy, wooden dining table with matching chairs is an investment to last the ages. A neutral color scheme across the whole area will help to tie it all together and enhance the feeling of one big room. As an added bonus, this design is ideal to bring the household together.
Interior design can be a nightmare for some and make others very nervous. None of us want to be living in a space that we don't truly love. Designs that can stand the test of time are all good and well, but at the end of the day it'll be you living in it. Ideally you can find the perfect mix of classic and personal to complete the space you call home.