Back in the late 1800s, an Italian engineer who was born in Paris came up with a theory that has survived to this day and named after him – the Pareto principle.
The basis of this principle is that most things in life are not distributed evenly.
For instance, we know most of the wealth on the planet is owned by a tiny percentage of people.
Rather than ranging through the entire world, elephants are only found on two continents – and then in relatively small numbers compared with the population of other animals.
Pareto based his original observations on the wealth aspect. At the time, he discovered that 80% of Italy's wealth was then owned by just 20% of its population.
The more he studied different areas of life and ideas, the more he found that the principle held true across many things.
It still does.
80% of the result is created by 20% of the input
80% of the result is produced by 20% of the workers
80% of the revenue is created by 20% of the customs
80% of computer crashes are caused by 20% of the bugs and viruses
80% of the usage is caused by 20% of the features.
This 80/20 rule is not exact – in statistics, they would know it as "typical distribution."
The key thing is that output, effort, and reward are not evenly distributed, and some aspects of disbursement contribute more than others.
The business has adopted the Pareto principle in a big way. It is often taught, and used as an example of good business practice, on MBA courses around the world.
It is a mantra in sales and marketing that 80% of your business comes from 20% of your clients or customers.
If you take a look at your own business, or the accounts of a well-known business like Qantas, or Coles, or Wesfarmers, for example, you will find a correlation. It won't be exactly 20% but it won't be a million miles away.
The business world is not perfect. If it were, each employee would contribute the same amount – as we know, in every working situation, there are the workshy and the strivers – and it stands to reason that the strivers are always more productive than the workshy.
So – how does all this relate to building sustainable business relationships?
If 80% of your business is coming from the top 20% of your customers, it makes sense, not only to look after them for more repeat business but also to direct your marketing and advertising towards finding similar customers or clients.
The time-honoured way of doing this is with rewards for loyalty and custom.
Such rewards can take many forms, and in this day and age, there is a fine line between a genuine thank you and "graft," or what seem to be corrupt practices.
"Business entertainment" is very much one of those grey areas for tax inspectors across the globe.
These practices can encompass anything from gifting vacations, stays in villas or on yachts, lavish meals or nightclubs or, theatre seats, – or even the "Company VIP Box" at the local football or cricket club, which is also sponsored by the business.
Promotional products are also used to significant effect, and corporate gifting has become a huge business.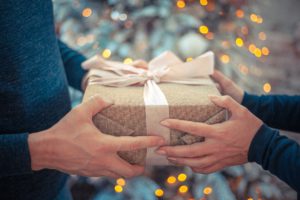 Gift ideas ranging from branded coffee mugs and mouse mats, body products and beauty sets and accessories, are all firm favourites for the corporate gifts Australia business uses.
Travel products and gift sets let clients and customers know how much companies appreciate their business.
Receiving an Australian made gift box on your birthday, or to mark a special occasion, is something which will always go down well.
Most business gifts can be personalised and adapted to either the business or the recipient.
One of the most obvious examples of this is the array of pens, writing pads, diaries, and paperclip holders in doctors' surgeries and waiting rooms from pharmaceutical and medical supply firms.
Gifts for the boardroom and C-Suite are often more lavish and targeted. A personal cigar box and portable humidifier might be an ideal gift for a budding CEO, a hamper of beauty products or spa or massage day, one for a CFO.
The budget for a small business might prevent them from buying expensive promotional products – but business growth should be at the back of your mind always. Customers who know their business is appreciated, and that they are valued, are far more likely to recommend your company on social media or to their peers in business.
Any chief marketing executive will look at nurturing and maintaining long-term relationships, as well as winning new customers.
Sustainable growth for any successful company depends on winning both types of business.
Building relationships with business owners is an investment.
In any industry, acquiring new business is more expensive than having a program to remind your existing clients or customers why they dealt with you – and why they should next time, as well.
Small branded gifts, which are eco friendly, like reusable coffee cups, drink bottles, stubby holders or cooler bags are very popular at the moment.
Desk accessories are also a perennial favourite – you can never have enough flash drives, pens or staplers.
Tote bags, golf umbrellas and t-shirts are promotional items that never fall out of favour either, and promotional merchandise companies, Australia wide, can send representatives to go through their range of branded products with you.
The larger ones even have something like a promotions warehouse or showroom you can visit to get ideas.
All companies making promotional products have an online presence these days, along with staff to help with everything from one-off promotional gifts, to a full business conference branding exercise or advising on what you might need for an exhibition stand or display.
Exhibition giveaways are sought after tokens of having been to a business conference or trade show and corporate brand gift packaging deals, customised giveaways, and corporate gift solutions are becoming vital to any successful marketing campaign.